Australia
The land Down Under is often described by visitors as marvellously unexpected. Though many flock for the good life – beaches, barbecues, good living – the hidden treasures are often what remain as memories. Evidence of the world's oldest cultures can be found here, but equally you'll also discover some of the most progressive cuisine, architecture and fashion in the southern hemisphere. The magnitude of this vast continent with its ochre heart lends itself well to train journeys – long enough to enjoy the luxury of train travel, but short enough to make it a convenient way to travel and explore a selection of beloved sights en route.
Whether you choose to explore the Top End's sultry jungles and tropical beaches, marvel at the Indigenous rock art and arid landscapes of the Red Centre or snorkel amongst the coral reefs, there's much to discover in this hugely beautiful land.
Train journeys through Australia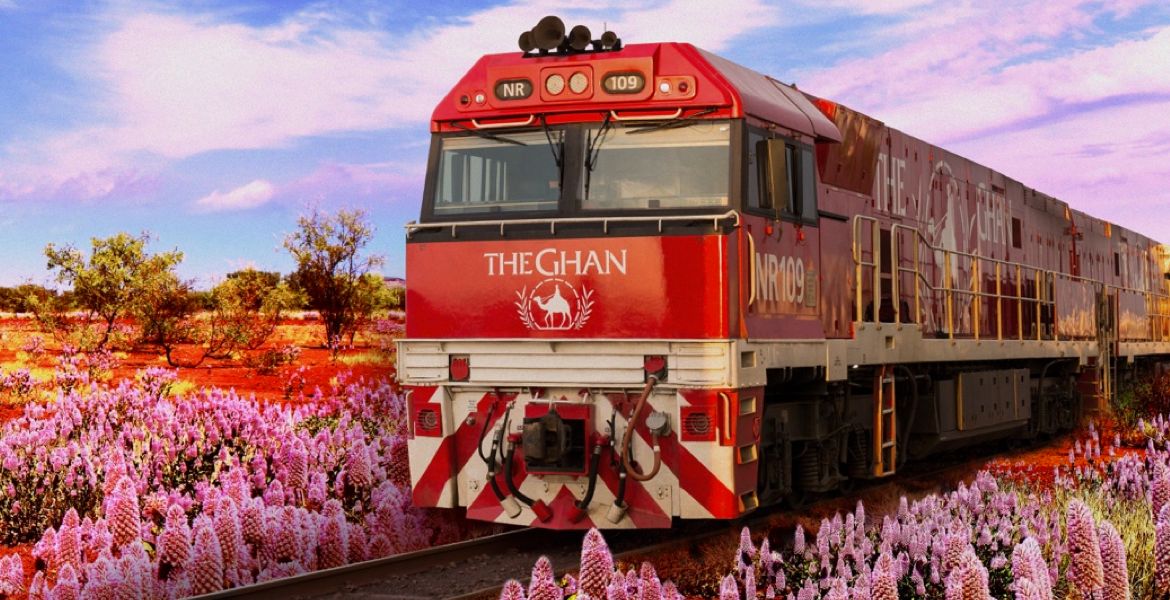 The Ghan
A legend of the rails since 1929, The Ghan is a superlative experience for travelling from north to south, or vice versa, across the Land Down Under. It's much more than just a route from A to B: on board you'll discover fine Australian wines, sophisticated cabins and attentive service. The journey may be almost 3,000km long but the stops along the way are just as memorable as the scenery that passes by the panoramic windows. A cycling tour through Alice Springs, a cruise through the Nitmiluk Gorge, watching the sunset over Uluru. When the train pulls into station, the adventure truly begins.
Dine under the star-studded night skies at an exclusive venue among the vast desert dunes
Enjoy a sundowner as you watch the sunset over the stunning red mounds of Uluru and Kata Tjuta
Discover Litchfield National park and its rainforests, waterfalls and sacred historic monuments
Take a guided cruise along the picturesque Nitmiluk Gorge, part of the 292,000-hectare Nitmiluk National Park
Pass through the majestic Flinders Ranges on your way into Adelaide, Australia's largest mountain range
Sample the wonderful premium wines and artisanal producers of Margaret River on a gourmet tour
Featured Product
Legendary Ghan & Australian Outback Adventure
Fully Escorted Tour of Alice Springs & Ayers Rock
Thunder through ever-changing landscapes encased in the elegance, style and luxury of the Ghan train, during a journey to remember from Adelaide to Darwin.
Your adventure begins in the cultured city of Adelaide where you'll enjoy an overnight hotel stay to catch a glimpse of t...
From:
£4,799
pp
Book with confidence
Book with confidence. We are members of ABTA and committed to delivering exceptional levels of quality, service and value. All our cruise holidays are financially protected through ABTA bonding and many of our flights and flight-inclusive holidays are covered by the ATOL scheme for your peace of mind.
Fully Protected
You're in safe hands with a reputable, accredited travel agent.
Service & Expertise
Our experienced team create unique rail holidays tailored to you.
Highly Recommended
4.5/5 of our customers would happily rebook with us.
Exceptional Value
We're obsessed with delivering exceptional value on every rail holiday.