India
A clash of colour, culture, cuisine: India is vibrant and full of life. It's also vast, and its size and varied scenery lends itself perfectly to train travel. Discovering the treasures of this charming country is high on many bucket lists for good reason, there are so many once-in-a-lifetime destinations it can be hard to fit them in on one trip but travelling by train means you only need to unpack once as you speed between breath-taking sights.
Gaze in awe at the Taj Mahal in Agra, its gleaming marble basking under clear blue skies. Wonder around the painted Amber Fort in Jaipur, home to ambling elephants and mirrored palaces. Catch a glimpse of the rare, beautiful tiger in Pench National Park. Along the way, sample delicious cuisine that varies across the states: creamy coconut curries in Mumbai and fiery deep-fried kachoris from Udaipur. It's an adventure for your palate.
Train Journeys though India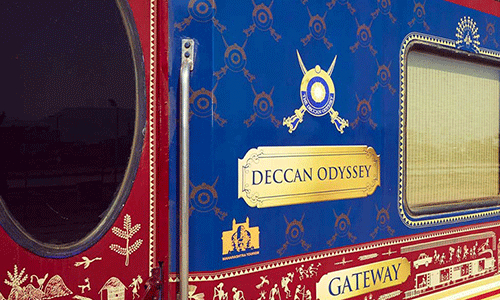 Deccan Odyssey
Adorned in vibrant colours, the Deccan Odyssey turns heads whenever the train rolls into a station. Each area of the train has been lavished with luxury, from the beautifully appointed dining cars to the stunning suites – each cabin is decorated in the style of the Deccan dynasties. Travelling on the Deccan Odyssey feels like a return to the days of the Viceroy, being wined and dined with the finest cuisine, and waited on by a fleet of gracious valets. Journeys range from the bright city lights of Mumbai and Delhi to the idyllic national parks of Pench and Ranthambore, or the mystical ruins of Gujarat.
Explore UNESCO World Heritage Sites such as the Taj Mahal and the rock-cut cave complex of Ellora
Travel to India's 'city that never sleeps', Mumbai, the financial capital of India with its glittering skyscrapers
Visit the western state of Gujarat, to visit the 900 Jain temples of Palitana and Sasan Gir National Park
Get up close and personal with India's elusive big cats, such as the Asiatic lions and the magnificent Bengal tiger
Compare the bustling energy and constant clamour of Old Delhi with the genteel elegance of New Delhi
Our latest Indian offer
Exotic India Discovery & Luxury Deccan Odyssey Sojourn
Tiger Game Drive in Ranthambore National Park
Lively street life, fragrant dishes and a friendly welcome await you in India, a destination that stimulates the senses like no other.
This country pulses with energy from its loud and fast-paced cities to its vibrant traditions. However, you'll also find peace and s...
From:
£4,799
pp
Book with confidence
Book with confidence. We are members of ABTA and committed to delivering exceptional levels of quality, service and value. All our cruise holidays are financially protected through ABTA bonding and many of our flights and flight-inclusive holidays are covered by the ATOL scheme for your peace of mind.
Fully Protected
You're in safe hands with a reputable, accredited travel agent.
Service & Expertise
Our experienced team create unique rail holidays tailored to you.
Highly Recommended
4.5/5 of our customers would happily rebook with us.
Exceptional Value
We're obsessed with delivering exceptional value on every rail holiday.