India
A clash of colour, culture, cuisine: India is vibrant and full of life. It's also vast, and its size and varied scenery lends itself perfectly to train travel. Discovering the treasures of this charming country is high on many bucket lists for good reason, there are so many once-in-a-lifetime destinations it can be hard to fit them in on one trip but travelling by train means you only need to unpack once as you speed between breath-taking sights.
Gaze in awe at the Taj Mahal in Agra, its gleaming marble basking under clear blue skies. Wonder around the painted Amber Fort in Jaipur, home to ambling elephants and mirrored palaces. Catch a glimpse of the rare, beautiful tiger in Pench National Park. Along the way, sample delicious cuisine that varies across the states: creamy coconut curries in Mumbai and fiery deep-fried kachoris from Udaipur. It's an adventure for your palate.
Train Journeys though India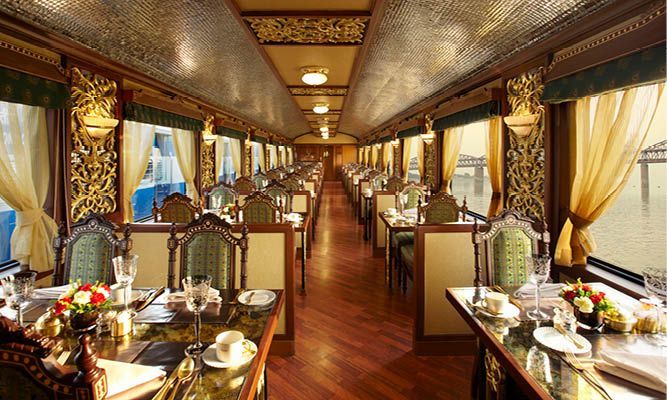 Maharajas' Express
Crimson carriages emblazoned with a glorious motif of prowling tigers and golden letters, the Maharajas' Express certainly welcomes you like royalty. With it sumptuously decorated interiors from intricately designed walls to mosaic and fresco-decorated ceilings, this train is certainly dressed to impress. Dine on gourmet fare ranging from classic Indian to creamy French-style dishes while outside India's diverse and stunning landscape rises and falls on the horizon. Then, in the evening, be guided to your cabin by your personal valet and retire to your opulent cabin and prepare for bed with the complimentary luxury toiletries made of aromatic essential oils.
Discover the tale of seven ancient cities amalgamated into modern day Delhi.
Witness precious stones and jewels glitter in the walls of the iconic Taj Mahal.
Walk within the opulent palaces and forts in the 'Pink City' of Jaipur.
Watch as tigers slink through the undergrowth in Ranthambore National Park.
Our latest Indian offers
All of our holidays include flights and transfers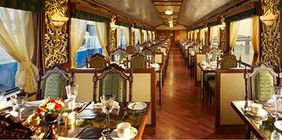 Luxury Maharajas' Express & Magical Maldives Escape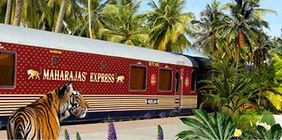 Luxury Maharajas' Express & Mauritian Escape

Can't find what you're looking for?
Try searching below
Book with confidence
Book with confidence. We are members of ABTA and committed to delivering exceptional levels of quality, service and value. All our cruise holidays are financially protected through ABTA bonding and many of our flights and flight-inclusive holidays are covered by the ATOL scheme for your peace of mind.
Fully Protected
You're in safe hands with a reputable, accredited travel agent.
Service & Expertise
Our experienced team create unique rail holidays tailored to you.
Highly Recommended
4.5/5 of our customers would happily rebook with us.
Exceptional Value
We're obsessed with delivering exceptional value on every rail holiday.