About the train
Rovos Rail's magnificent Pride of Africa trains are much more than just transportation. Crossing Africa's most iconic landscapes in elegant style, these beautifully restored carriages travel between Pretoria and Cape Town, across the wide deserts of Namibia, past the might of Victoria Falls and through the vast plains of the Great Karoo and the battlefields of KwaZulu-Natal. During the journey you'll enjoy excursions, game drives and guided tours by historians who will further illuminate your journey with their knowledge and insight, as well as bush lunches and suppers under a blanket of African stars. From the outside observation deck, watch flocks of flamingos gather in shallow lakes, and take breakfast in Art Deco opulence as the African bush slides by.
In the evening, enjoy the Cape's finest wines in the wood-panelled Victorian-style dining cars. With phone and computer usage restricted in common areas, you're guaranteed an atmosphere of refinement and tranquillity.

On-board experience
Travelling on board a Rovos Rail service is like stepping back in time, while keeping the most comfortable technological additions of the 21st century with you, like dual voltage plugs and luxurious amenities. The atmosphere on board is laidback and relaxed; you may find a hush falls over the carriages mid-afternoon as guests unwind and take an indulgent nap, only for a frisson of excitement to ripple through the train as it passes through some of Africa's most stunning natural landscapes.
No expense has been spared in the renovation of these beautiful 1920s and 1930s carriages, so you can expect the highest quality furnishings, beautifully restored period décor and authentically genteel hospitality too.
If you're travelling to or from Pretoria, a highlight of your journey is a visit to the private train station, which serves as the arrival or departure point for journeys and also hosts a small museum. It's designed to resemble an authentic Edwardian station, with its wingback chairs for relaxing, antique furniture and a gracious hospitality service.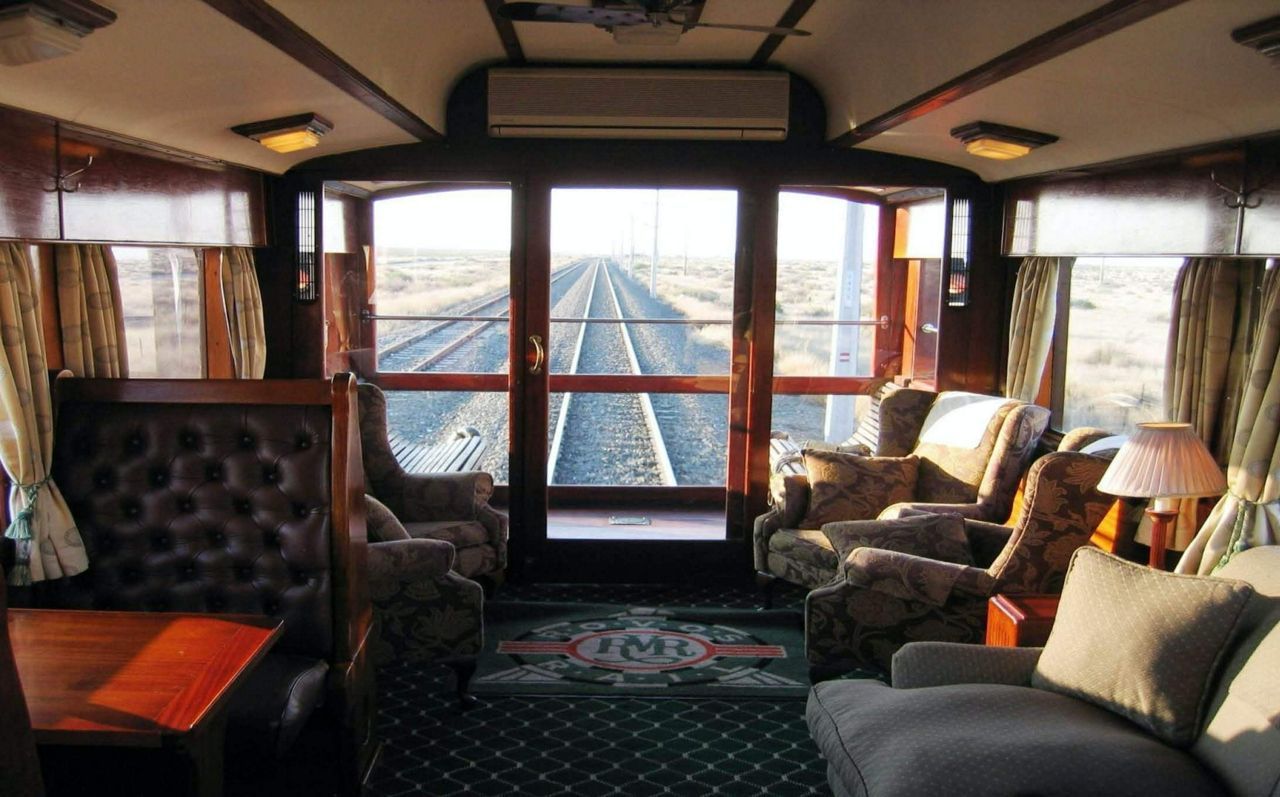 Each train is generally made up of a club lounge, an observation car with vast windows and an open-air platform for enjoying the views, two dining cars and 36 spacious cabin suites, with further upgraded accommodation available. The stunning Edwardian-era carriages have been painstakingly restored to showcase their elegant period details, while adding all the modern comforts that today's travellers desire on cross-continental journeys. Put simply, it feels like stepping back into a bygone era, but with discreet luxury touches.
The observation cars have a fascinating history, and once served as a stationary restaurant in Sandton, Johannesburg, before being restored as observation cars. Even more beautiful are the pre-1940s dining cars, which were also restored into service with the addition of button-trimmed leather seats, wooden marquetry and other added embellishments. When the train was expanded from 45 to 72 guests, the addition of a lounge car provided a convivial space to come together and share stories of the day's adventures over fine beverages. Today, the lounge cars still have comfortable wingback chairs and deep sofas for prime afternoon snoozing, and a small gift shop. A highlight is the ability to open the windows, to let the sights, sounds and smells of Africa in.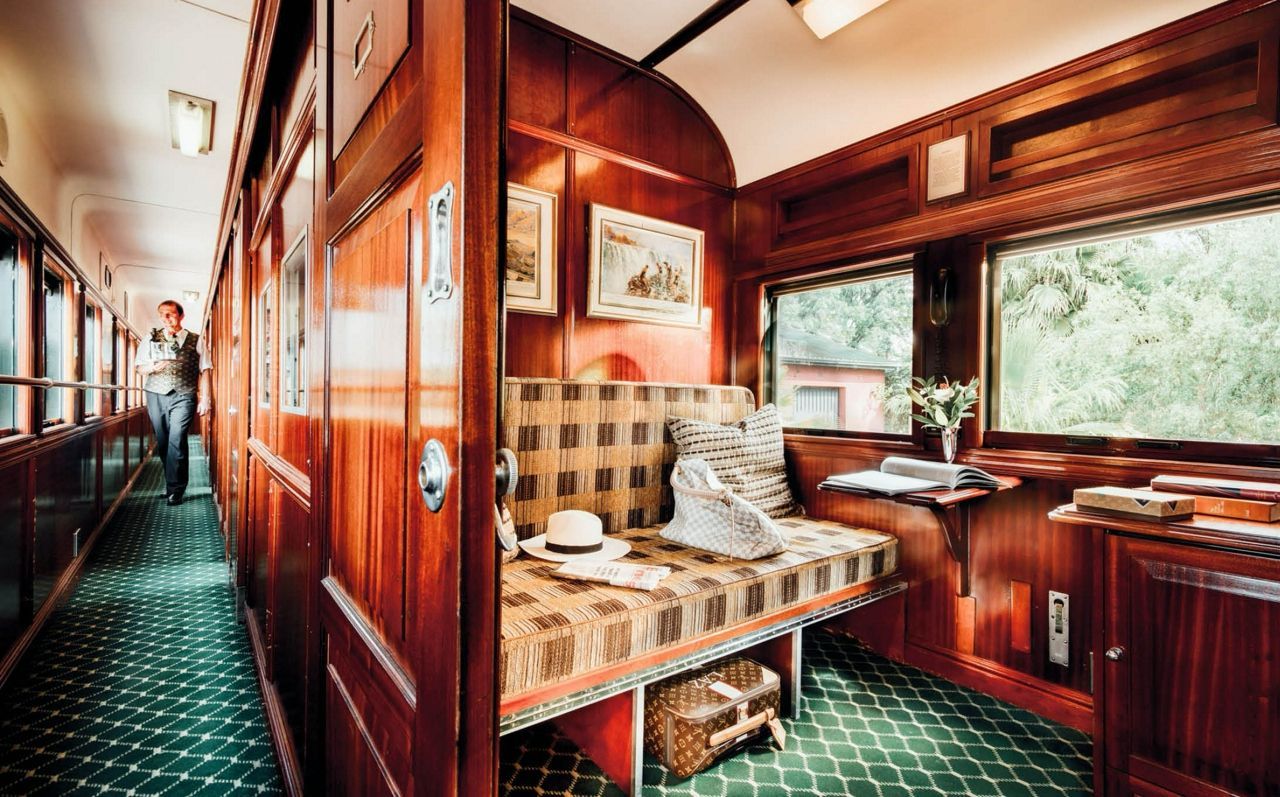 There are three cabin types on board, each one a luxurious suite with en suite facilities that is adorned in ornate wood panelling and period Edwardian features – you'll find a writing area and personal safe, a minibar filled with beverages of your choice and amenity bags which are replenished on your request. For your comfort, there's 24-hour room service and slippers and gowns in the suite.
Beginning at 7sqm, the Pullman Suites are fitted with a sofa-seat during the day, which converts to either a double or twin bed at night. They also have an en suite bathroom with a shower. More luxurious still, the 11sqm Deluxe Suites have a separate lounge area and an en suite bathroom.
The most luxurious option is the Royal Suites, of which there are four on board each service, with each taking up half a carriage. These offer 16sqm of space and have a private lounge area and a full en suite bathroom with a shower and Victorian claw-footed bathtub. With wood panelling and period Edwardian features, these air-conditioned suites are the epitome of elegance, where the original fittings combine with the addition of modern technology such as hairdryers and plugs.
In the spirit of the Golden Age of travel, there are no radios or televisions on board, as well as no Wi-Fi. If you need to use a mobile phone or laptop, this should be confined to the privacy of your suite.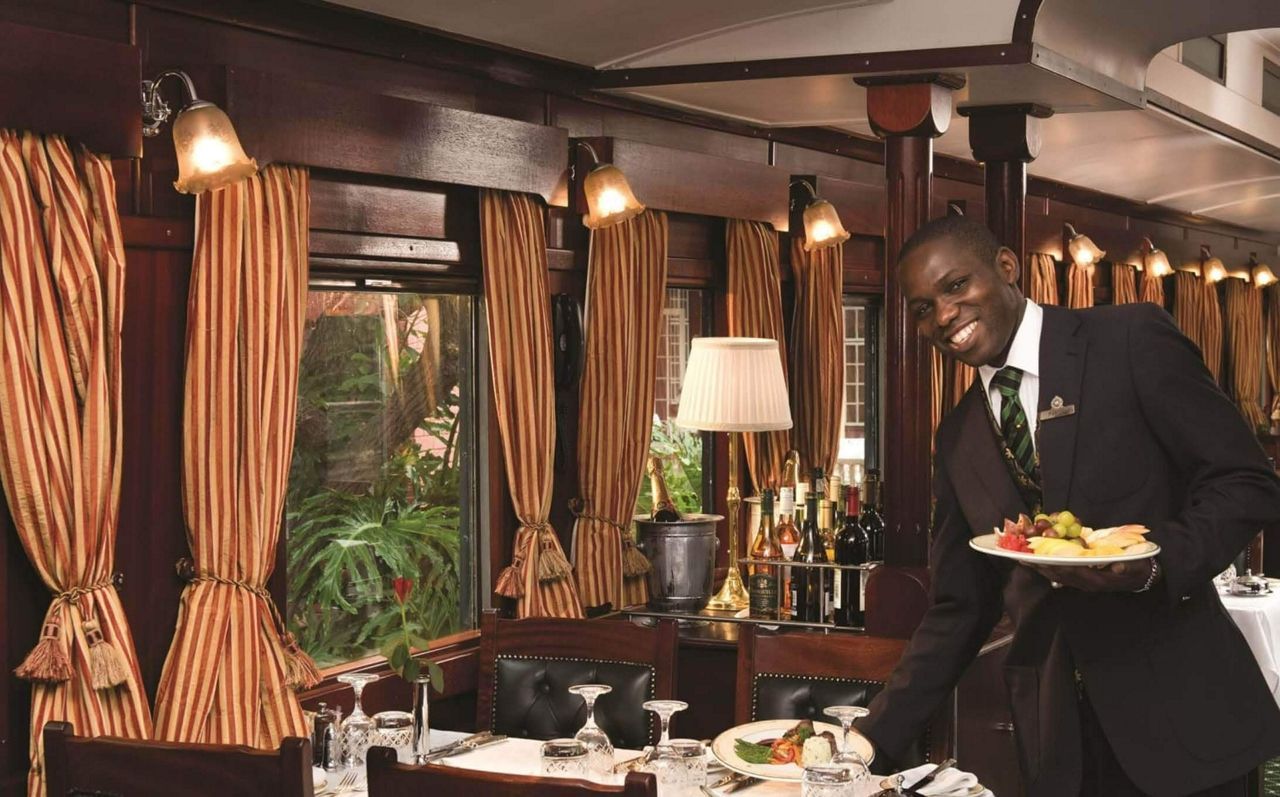 The service on board the train is as you might expect from a luxurious rail service. The total staff once numbered just four, however Rovos Rail now employs 440 people, all dedicated to providing a world-class service to each and every guest. Put simply, there's a reason why the service is known as the 'Pride of Africa'. Each train has its own Train Manager, plus a fleet of cooks, stewards, servers and hosts to ensure your experience is as smooth as the rails you'll be travelling on.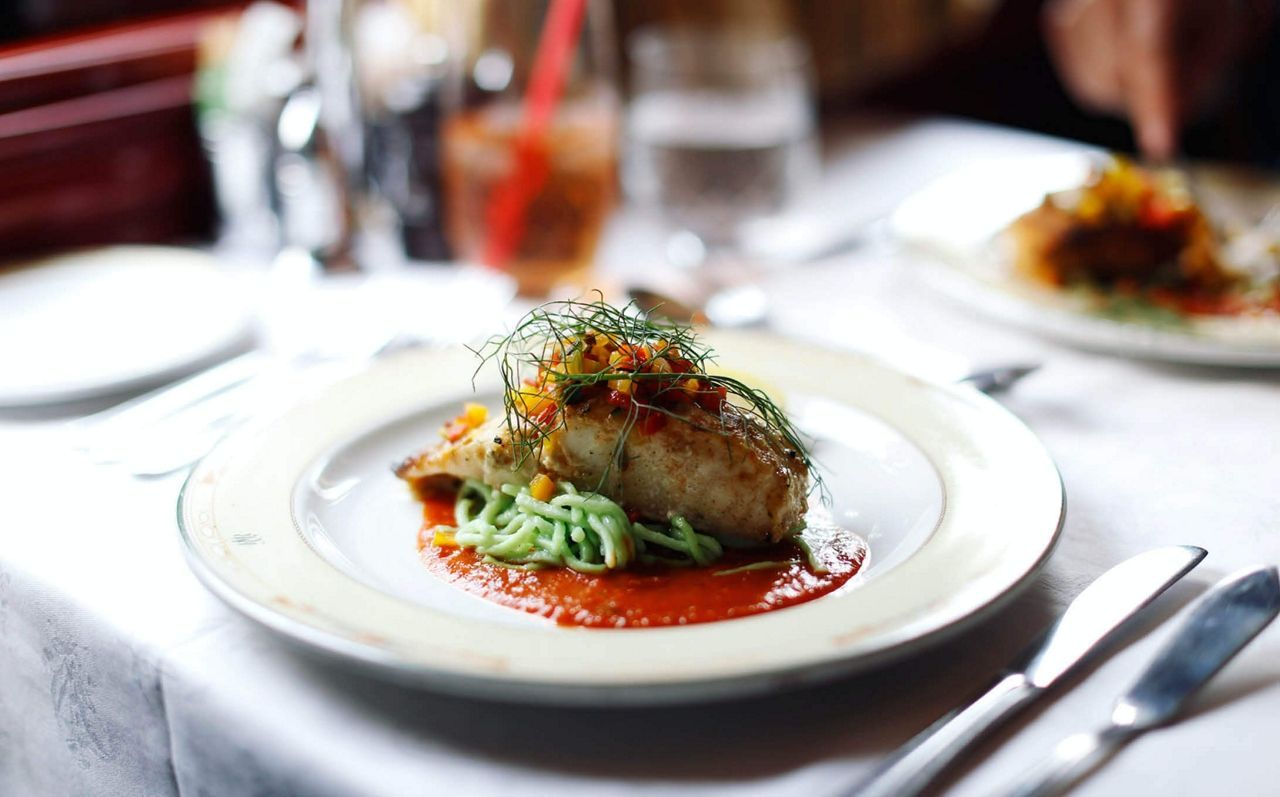 All meals on board are served over one sitting in the dining cars; it's a sociable time of the day when all the guests come together to celebrate the diversity of dining across the continent, sampling delicious cuisine complemented by fine South African wines. A fleet of experienced chefs is tasked with creating innovative and beautifully presented meals for the maximum of 72 guests on board, with a focus on fresh, local ingredients including speciality game.
Breakfast is a leisurely affair and served until 10am, with lunch at 1pm, afternoon tea served in the late afternoon and your formal dinner service at 7.30pm. The bar service runs until 1am, but you might want to get an early night if you're taking a game drive the following day. What's certain on board Rovos Rail journeys is that you'll never go hungry. That, and that every lunch and dinner service is announced with the sounding of a gong.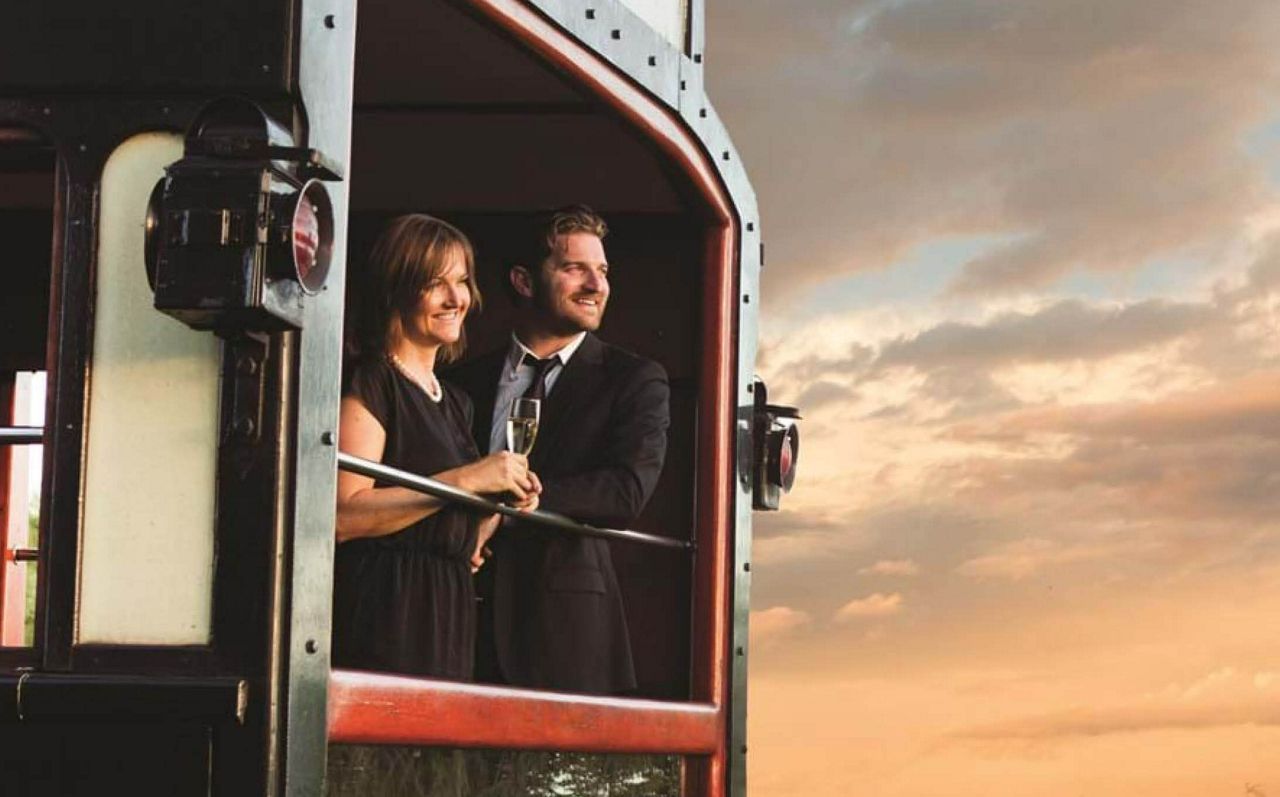 As you're travelling between diverse destinations, from city to safari, the dress code on board is mostly casual; during the day, you can feel free to dress in whatever comfortable, smart casual resortwear you have brought along with you to dine in the dining car and relax in the lounge. In the evening, a formal dress code is implemented to enhance your experience, so you can imagine travelling in the Golden Age of travel – dinner jackets for the men, while ladies are advised to wear cocktail or evening attire, whether a dress or suit. Some longer journeys feature themed evenings, for example 'Africa' or '1920s style'.
General Information
Smoking
Smoking is possible in the Club Lounge only.
Wi-Fi
Wi-Fi is not available on board the train.
Currency
Major credit cards are accepted, and guests are advised to carry South African rand for any onboard purchases. The Rand is also accepted in Namibia and Swaziland; US Dollars are accepted in Zimbabwe, Tanzania, DRC and Angola.
Featured Product
The Wonders of South Africa & Rovos Rail Journey
Pilanesberg National Park Game Drive
This fantastic holiday offers the opportunity to enjoy the best that South Africa has to offer. Savour a hotel stay at Sun City and enjoy a safari adventure, glide across unforgettable landscapes on board the luxury Rovos Rail before you relax in cosmopolitan Cape Town.
Highlights of...
From:
£3,299
pp
Book with confidence
Book with confidence. We are members of ABTA and committed to delivering exceptional levels of quality, service and value. All our cruise holidays are financially protected through ABTA bonding and many of our flights and flight-inclusive holidays are covered by the ATOL scheme for your peace of mind.
Fully Protected
You're in safe hands with a reputable, accredited travel agent.
Service & Expertise
Our experienced team create unique rail holidays tailored to you.
Highly Recommended
4.5/5 of our customers would happily rebook with us.
Exceptional Value
We're obsessed with delivering exceptional value on every rail holiday.