South America
From the snow-dusted peaks of the Andean altiplano to the fertile winelands or coastlines, South America's train tracks cross some of the most varied and jaw-dropping scenery in the world. For seeing the sights in serious comfort, a train journey is unrivalled; what better way to view the majesty of the landscapes than from a tranquil carriage as you dart across the vast distances with ease. Imagine exploring the beautiful Inca ruins of Machu Picchu and then retreating to a luxury cabin, with an en suite bathroom – or perhaps the 'white city' of Arequipa, the former Inca capital of Cusco, the unfathomable depths of Colca Canyon.
Travelling by train evokes a sense of old-fashioned nostalgia, but recent investment in rail means you'll travel on board modern trains with fine-dining, spa services and piano bars.
Train Journeys through South America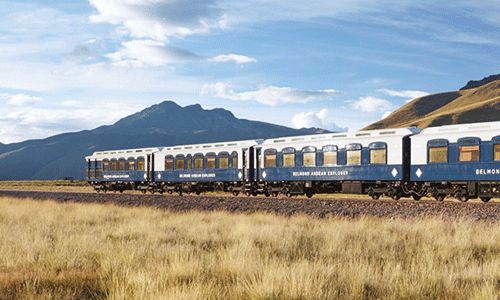 Belmond Andean Explorer
Belmond hotels are some of the finest in the world, and the Belmond Andean Explorer train is no different. The luxurious locomotive speeds through the Peruvian altiplano in the utmost comfort – 16 midnight blue and silver carriages providing the perfect way to view the lofty mountain scenery. Travelling at altitude adds an adventurous dimension to the journey, but you can rest assured that after your tours and excursions, you'll return to finest suites decorated in textured leather and alpaca wool, gourmet cuisine featuring locally-inspired flavours, and a spa car where you can enjoy soothing massages. Along the way you may find yourself gazing at Andean condors soaring on thermals, the breeze whispering through the reeds on Lake Titicaca, the colourful handicrafts of traditional markets. Journey between the fine cities of Peru's Inca heartland in the most magnificent way.
Sipping sweet, citrusy pisco sours in the elegant bar car and sharing stories with fellow travellers
Visiting the man-made reed islands of Lake Titicaca, before a private lunch on Collata Beach with traditional dancing
Peering out over the majesty and Inca architecture of Colca Canyon, one of the world's deepest fissures
Photographing incredible wildlife such as friendly alpacas, soaring eagles and the incredible Andean condor
Featured Product
Ultimate South America & Andean Explorer
Experience the sweeping vistas of the Andes and the ancient kingdom of Machu Picchu followed by an incredible Iguazu Falls and Rio de Janeiro adventure on this bucket-list adventure holiday.
Your ultimate South America discovery begins as you explore the incredible region of Machu...
From:
£6,299
pp
Book with confidence
Book with confidence. We are members of ABTA and committed to delivering exceptional levels of quality, service and value. All our cruise holidays are financially protected through ABTA bonding and many of our flights and flight-inclusive holidays are covered by the ATOL scheme for your peace of mind.
Fully Protected
You're in safe hands with a reputable, accredited travel agent.
Service & Expertise
Our experienced team create unique rail holidays tailored to you.
Highly Recommended
4.5/5 of our customers would happily rebook with us.
Exceptional Value
We're obsessed with delivering exceptional value on every rail holiday.