About the train
Belmond Andean Explorer was only launched in 2017 but has already become one of the world's most iconic rail journeys. It is also South America's first luxury sleeper train. Travelling through the high-altitude altiplano of the Peruvian Andes, the route operates along one of the planet's highest rail tracks, affording breathtaking scenery along the way. Snaking through mountain passes, the train links the country's magnificent natural wonders and ancient Inca sights in one easy journey, ideal for those who enjoy the romance of rail, the finer things in life, or simply the ease of a train journey which shortens the time it takes to get to each of the incredible destinations along the way.
You will chug serenely from the mystical city of Cusco, capital of the former Inca Empire, speed across the never-ending Andean plains to the whitewashed city of Arequipa, glide past the reed-dappled waters of Lake Titicaca, and marvel at the unfathomable depths of Colca Canyon, as vast condors glide on the thermals below you. The one- and two-night discovery journeys, also available in reverse, offer more than a glimpse into life in this unparalleled land, with immersive tours each day showcasing the hidden gems of this fascinating country.

On-board experience
Your journey passes through some of South America's most iconic landscapes, but you may find it hard to tear your eyes away from the beautifully appointed carriages that will serve as your travelling home for the next one or two nights. Despite the luxury surroundings of the train, the expeditionary nature of the journey means that a smart-casual appearance is appropriate – there's no need for formal wear at evening meals.
This relaxed atmosphere means you can unwind and feel comfortable as you do so. It's a sociable journey: as you absorb the incredible scenery, connect with fellow travellers over stories of your trip and an expertly made Pisco sour. If relaxation is a high priority while you're travelling, book a few moments of calm in the spa car, where Andean rituals can help you to soothe and unwind.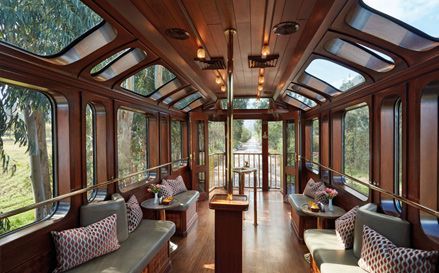 As the first luxury sleeper in South America, expect unprecedented luxury in the form of contemporary style throughout the train's 16 beautiful carriages, resplendent in midnight blue and dove grey livery. Décor leans towards the earthy, with vibrant punches of colour set off by textured leather and alpaca wool, natural materials from the surrounding area. Each of the train's carriages is named after local flora and fauna.
Dine on delicious Peruvian cuisine in the dining car, named Muna after a soothing Andean herb. Take spa treatments in Picaflor, the spa car, which is taken from the word for hummingbird. One element that ties it all together is the ancient Chakana cross, and Inca motif that marries the earth, underworld, and the starry heavens. A fitting tribute.
There are two dining carriages, each bright and elegant with polished macramé screens dividing near neighbours. After dinner, visit the library or boutique, or perhaps head to Maca, the lounge car, where there is often live music (sing-alongs encouraged) and soft, tweedy sofas for relaxing in after a long day. At the rear of the train, the Observation Bar Car affords the chance to take in the fresh mountain air while drinking pisco sours and other refreshing drinks.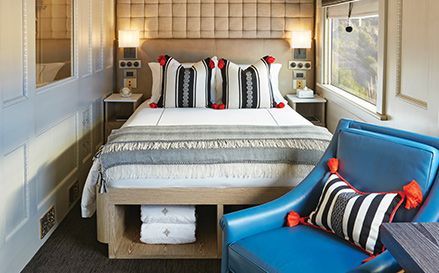 The train houses its 48 passengers – at maximum capacity – in 24 en suite cabins. Though the carriages were originally built in the 1990s (and later shipped by Belmond from Australia and extensively renovated), the cabins exude an Art Nouveau style reminiscent of the 1930s. Now you'll discover mahogany panelled walls, fleur de lys marquetry on bathroom floors, tactile fabrics like alpaca wool and leather. Interiors are designed by Inge Moore, responsible for upgrading some of the world's top hotels. A good night's sleep is made even more likely as the train does not travel at night.
There are three types of cabins, each a personal sanctuary. Evoke the glamour of the Golden Age of rail travel in a Bunk cabin, with two single beds arranged in an upper and lower berth configuration, which is transformed into a banquette during the day. Each cabin features a tall wardrobe for storage and an en suite bathroom, complete with shower, WC and washbasin. Alternatively, opt for a ship-style Twin cabin, with two lower berths converting to a long banquette seat during the day. Suite cabins are the most luxurious, with a large, permanent double bed, seating area, wardrobe and private bathroom.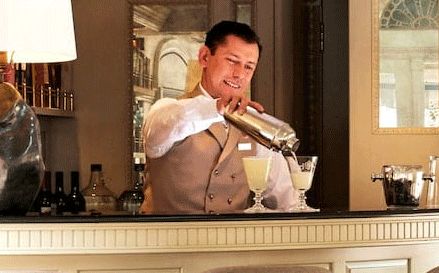 In typical Belmond style, the train offers the same exemplary service as the hotels under the same brand name. Should you need to request special dietary options, you can reserve this at the time of booking and your needs will be catered to. A freshly made pisco sour, just the way you like it, while you enjoy the view? Not a problem. Travelling at altitude isn't always comfortable for those inexperienced with mountain exploration, particularly at 4,300 metres, so it's reassuring to know that an on-board doctor is available should you require.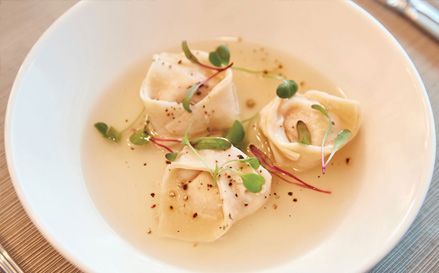 On board, acclaimed chefs create spectacular plates of food for breakfast, lunch and dinner, keeping you sufficiently fuelled for your mountain adventures. Throughout your journey you'll enjoy bountiful breakfasts, hearty lunches and nightly feasts, featuring the full spectrum of delicious Peruvian cuisine – one of the world's hottest culinary discoveries. Dishes are fresh, colourful and seasonal, with many traditional recipes from the Peruvian Andes selected by the chefs of the revered hotel, Belmond Hotel Monasterio, in Cusco. Expect delectable treats like stir-fried beef or chicken in yellow chilli sauce, fragrant ceviche marinated in lime juice and salt, and potato cream, seared scallops and parmesan. Desserts include favourites like pear tarte tatin. All very impressive, when you consider the kitchen is just eight feet wide.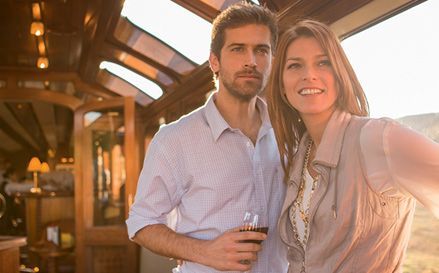 The dress code on board is smart casual, however travelling at altitude often means vast differences in temperature. In the Andes, it's recommended to dress in warm layers for the cooler mornings and evenings. For excursions, bring high-factor (50+) sunscreen, sunglasses and comfortable walking shoes.
General Information
Currency
The on board currency is US Dollars or Peruvian Nuevo Sol.
Language
All tours are provided in English and Spanish.
Smoking
There is no smoking permitted anywhere on board the train.
Featured Product
Ultimate South America & Andean Explorer
Fully Escorted South America Tour
Experience the sweeping vistas of the Andes and the ancient kingdom of Machu Picchu followed by an incredible Iguazu Falls and Rio de Janeiro adventure on this bucket-list adventure holiday.
Your ultimate South America discovery begins as you explore the incredible region of Machu...
From:
£6,299
pp
Book with confidence
Book with confidence. We are members of ABTA and committed to delivering exceptional levels of quality, service and value. All our cruise holidays are financially protected through ABTA bonding and many of our flights and flight-inclusive holidays are covered by the ATOL scheme for your peace of mind.
Fully Protected
You're in safe hands with a reputable, accredited travel agent.
Service & Expertise
Our experienced team create unique rail holidays tailored to you.
Highly Recommended
4.5/5 of our customers would happily rebook with us.
Exceptional Value
We're obsessed with delivering exceptional value on every rail holiday.