About the train
Since the days of the Viceroy, train travel in India has always been synonymous with luxury. There is surely no more luxurious journey across the country's diverse landscapes than on board the Deccan Odyssey, a rolling palace on wheels. From the sumptuous dining cars to the beautifully designed cabins, no expense has been spared on the interior décor: discover comfortable fixed beds dressed in crisp bedlinen and immaculately presented tables at dinner. The gracious service, spacious cabins and exceptionally high quality of on board dining make this unparalleled voyage feel more akin to a moving hotel, than a train journey.
This vast land lends itself perfectly to train journeys, with expert guides and excursions along the route which will illuminate the magnificent sights. You could take a trip around lesser-visited Gujarat, stop over at Ranthambore National Park in search of tigers, compare the contrasts of bustling Mumbai to the capital, Delhi, or visit the Portuguese-inspired coastline of Goa, where you'll discover spicy cuisine and stunning beaches.
All journeys are eight days/seven nights, so you will have plenty of time to immerse yourself in the scenery and the best bit – you only need to unpack once.

On-board experience
Travelling on board the Deccan Odyssey means enjoying the fabulous hospitality and luxurious décor that five-star Indian hotels are famous for, with the advantage of being able to travel to several different places in one trip. The comfortable cabins offer a good amount of space for a rail journey, with sumptuous fixed beds; there's nothing quite like waking up in a new destination and making yourself a morning tea or coffee in your cabin, opening the blinds to see where you have travelled overnight.
Round-the-clock service means you'll never want for anything too; just ask and you will receive.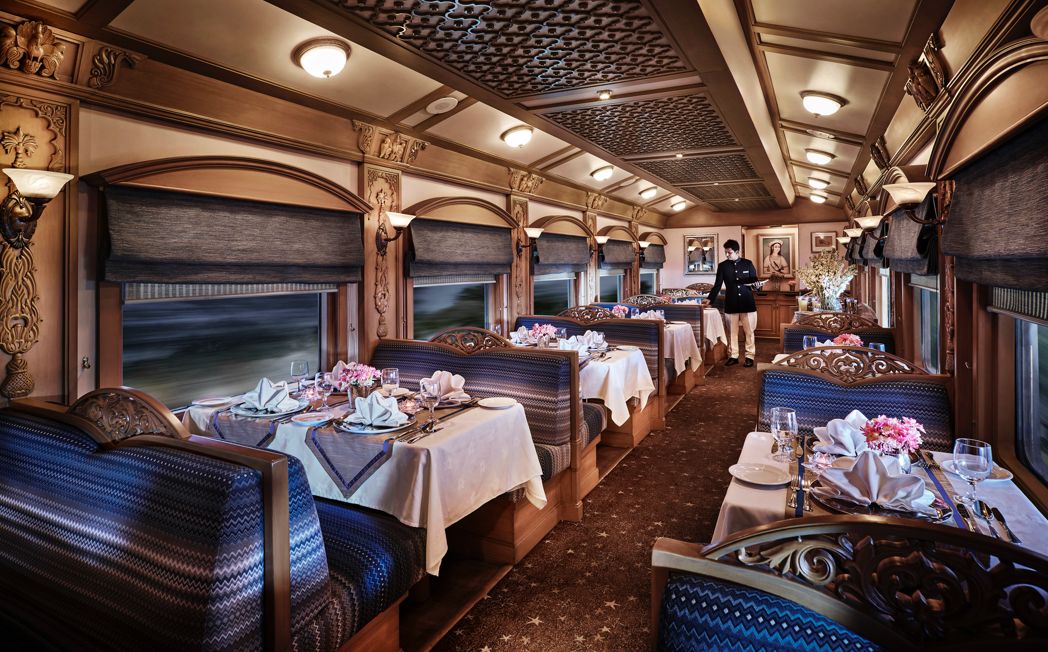 The unprecedented luxury of the Deccan Odyssey takes place across 21 stunning coaches, each outfitted in the distinctive vibrant livery which turns heads whenever the train pulls into a station. Of these 21 beautiful coaches, 11 are for guest accommodation with each carriage housing four luxury cabins. There are two fine-dining restaurants, each seating 34 guests, and a bar with a selection of house brands of wine, beer and spirits, snacks and cocktails. After long days of sightseeing, make an appointment in the restful spa car, where Ayurvedic massages incorporating ancient Indian techniques can soothe and help destress. Should you feel the need to work while you are on board, the conference car is well equipped with all the latest facilities to assist with your needs.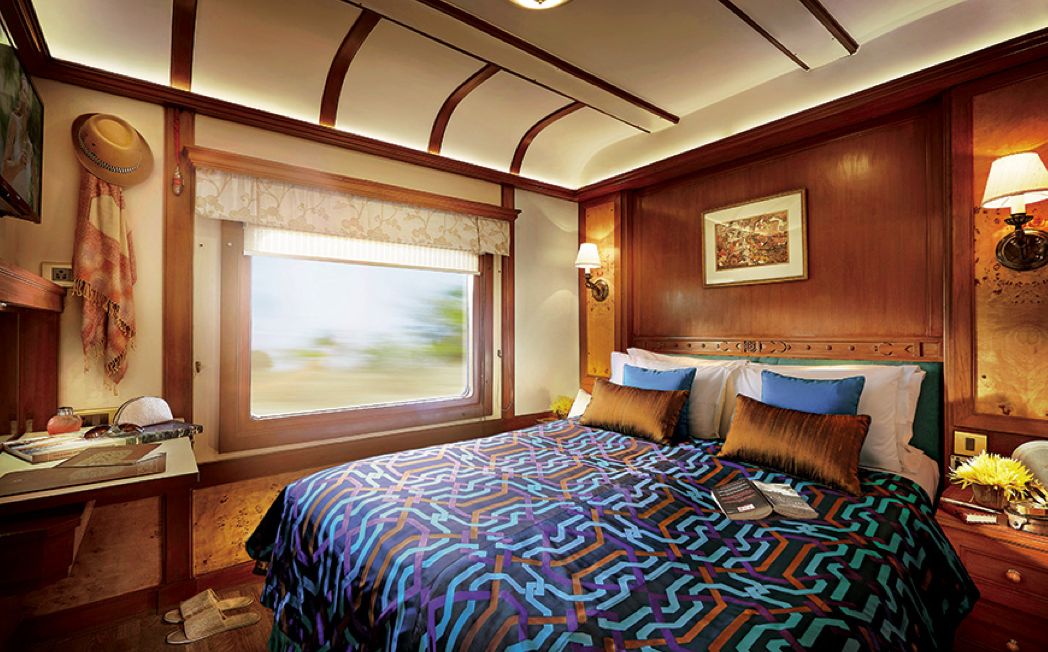 To ensure the utmost comfort on board, the guest accommodation is well equipped with modern features, while being beautifully appointed in a traditional style that reincarnates the design of the Deccan dynasties. There is just one Single Deluxe cabin on board, 33 Twin Deluxe cabins and six Double Deluxe cabins. The most luxurious of all the on-board accommodation is certainly the Presidential suites, of which there are four on each train. These sleep two to three guests in the utmost style and feature a bedroom and separate lounge with a single sofa bed. There are two en suite bathrooms per suite, and a separate shower, with air conditioning throughout.
Deluxe Class cabins are available with fixed twin or double beds, and feature an en suite bathroom with separate shower, air conditioning and complimentary tea and coffee in the cabin.
Each cabin has its own electronic safe, as well as a variety of amenities including luxury toiletries, ear plugs and slippers for your on-board comfort and a daily fruit basket. All cabins feature their own individual hot water heaters which should be switched on a few minutes before hot water is required.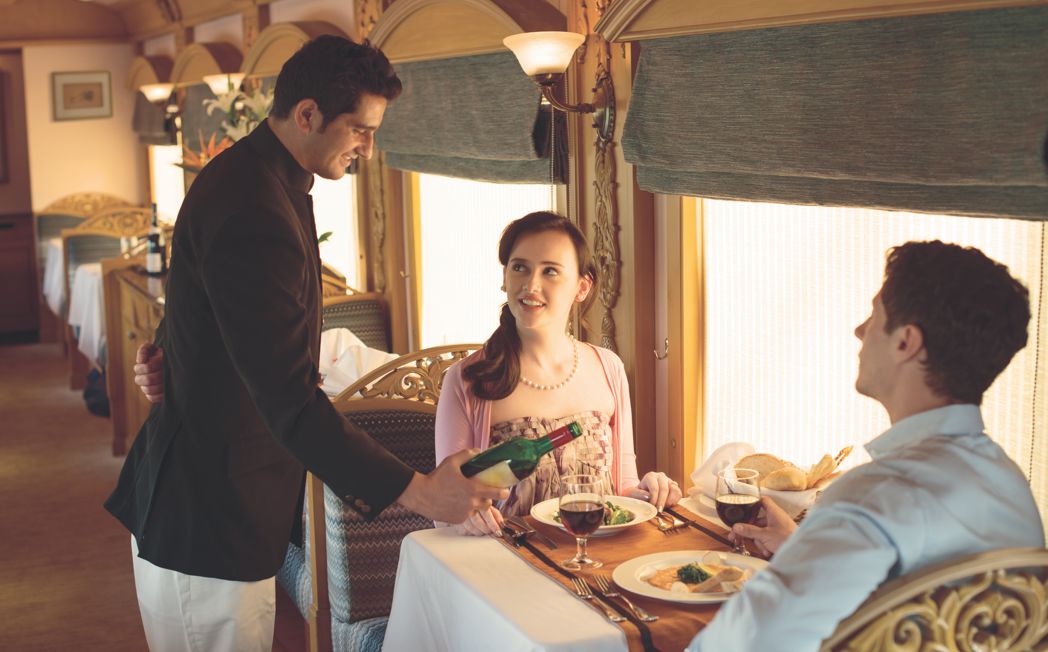 The train is staffed by a fleet of around 45-60 attentive stewards to take care of your every need. Round-the-clock service is provided by valets, with one for each coach and Presidential suite. On board services are extensive and include a foreign exchange, laundry services (for a supplement), a spa and even a salon – you can get a haircut on board, should you feel the need. If you prefer to relax in your room and enjoy the peace and quiet, tea and coffee can be served in all rooms, and full room service is available in the Presidential suites. For your personal convenience, copies of English language daily newspapers are provided in the public areas, and there is a small library of novels, coffee table books and magazines, plus a selection of games like chess.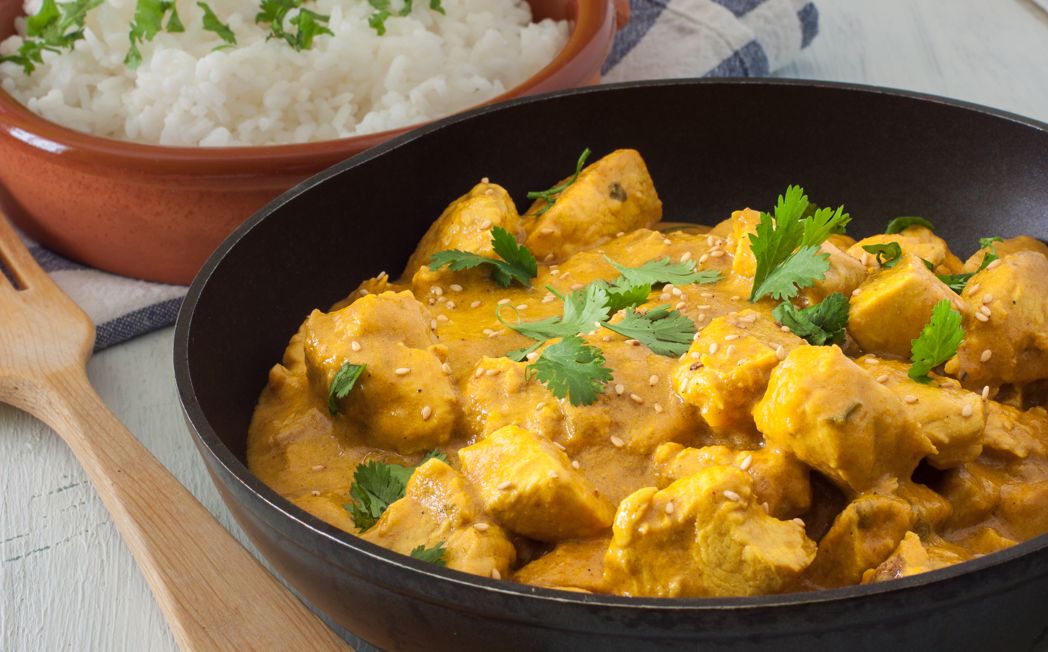 Dining takes place in one of the two stunning restaurants, which have been designed in a regal style reminiscent of Indian royal palaces. The on-board chefs prepare all meals fresh in the kitchen car and create menus that keep up the pace with the train's journey; you will discover local specialities of the state you are travelling through, made with seasonal ingredients. As well as traditional Indian dishes, each menu also includes an international menu to choose from, featuring favourite flavours from around the world. Once your evening meal has concluded, make your way to the train's well-stocked bar, where you can get to know your fellow guests over expertly-poured drinks and snacks. All meals, bottled water, juices and soft drinks are included, with alcoholic beverages at a supplement.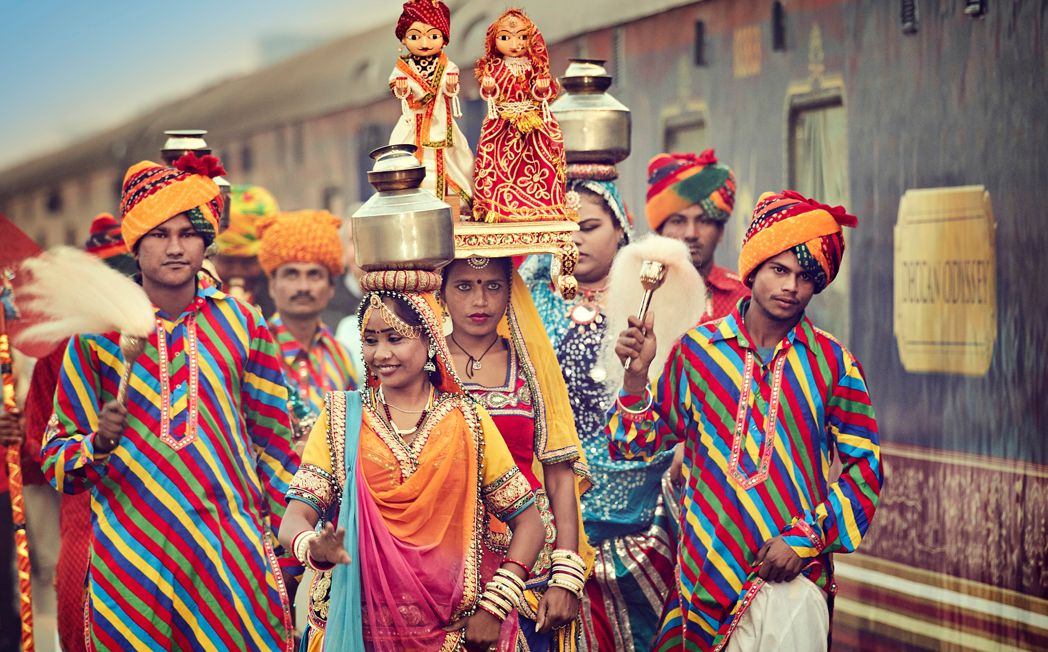 The Deccan Odyssey operates a smart casual dress code on board, with formal dinner required in the evening. For dinner, men should wear a dark suit and tie, or dinner jacket, while women can dress in smart attire. Suitable walking shoes are recommended for off-train excursions. If you decide to take a wildlife safari, natural-toned clothing should be worn, with jackets for early morning game drives.
General Information
Smoking
Smoking on-board is only permitted in the Club Car.
Featured Product
Exotic India Discovery & Luxury Deccan Odyssey Sojourn
Tiger Game Drive in Ranthambore National Park
Lively street life, fragrant dishes and a friendly welcome await you in India, a destination that stimulates the senses like no other.
This country pulses with energy from its loud and fast-paced cities to its vibrant traditions. However, you'll also find peace and s...
From:
£4,799
pp
Book with confidence
Book with confidence. We are members of ABTA and committed to delivering exceptional levels of quality, service and value. All our cruise holidays are financially protected through ABTA bonding and many of our flights and flight-inclusive holidays are covered by the ATOL scheme for your peace of mind.
Fully Protected
You're in safe hands with a reputable, accredited travel agent.
Service & Expertise
Our experienced team create unique rail holidays tailored to you.
Highly Recommended
4.5/5 of our customers would happily rebook with us.
Exceptional Value
We're obsessed with delivering exceptional value on every rail holiday.