About the train
Winning the "World's Leading Luxury Train" award for seven years in a row from 2012 to 2018, the Maharajas' Express redefines rail travel, as seen in its motto, 'Atithi Devo Bhava', which literally translated means 'Guest is equivalent to God'.
Harking back to a more elegant age, this luxury train embodies the spirit of when Indian Royalty and British aristocracy used to traverse the continent in their private saloons, waited on by butlers while enjoying sublime meals. Created in 2010, each carriage or 'saloon' replicates the opulent royal era of 18th and 19th century carriages. From embedded jewel works and glossy wooden carvings, no detail is too small within this luxury rail journey. Each carriage is named after a precious gem and inside your private cabin, you'll have an opulent en suite toilet and shower. The two dining cars also boast intricately detailed frescoed ceilings and gold- and silver-plated tableware.
Throughout this epic train odyssey, you can enjoy the sights of India's diverse landscape rise and fall beyond the window as well as journey directly to the heart of some of this country's most treasured destinations. With all your off-train excursions included, you'll find it hard not to feel as if you were the most treasured guest on board.

On-board experience
Reminiscent of a bygone era, the Maharajas' Express treats every guest like royalty. The route this luxury train travels varies so you could discover either cultural gems, historic highlights or ancient beauties. Whether it is a six night journey into the heart of India's less-travelled destinations or a three night adventure visiting some of the best-known attractions, this train glides from exciting monuments to blissful havens.
This train mainly explores the northern part of India but one route whisks you from its bustling capital, Delhi, to the Bollywood hub, Mumbai, stopping at tiger reserves, the Taj Mahal and lavish palaces in Jaipur. However whatever route you complete, you are guaranteed visits to India's iconic Golden Triangle as well as head out on tiger safaris.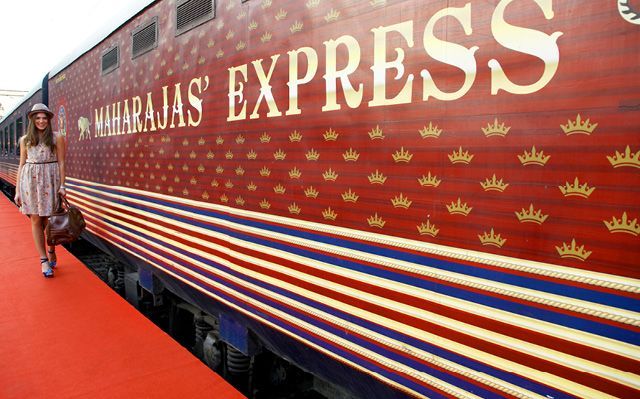 On board the Maharajas' Express you'll find all the facilities and amenities of a five-star hotel, with air-conditioning, wi-fi, round-the-clock butlers and floor-to-ceiling opulence that's on a par with any luxury train journey in the world. Interiors are decadently upholstered, with dark cherrywood furniture, exotic plants and gilded, turbaned staff. Each carriage is named in Hindi after a precious stone, including Panna (Emerald) and Heera (Diamond), and there are also two restaurants and a lounge carriage kitted out in plush deep-green leather chairs where you can admire the passing scenery through the large windows in sublime comfort. The Safari Bar carriage is the ideal place to socialize, with a selection of Indian and global drinks and board games provided on request.
A sight to behold as it cuts through the stunning Indian landscape, its 23 carriages are adorned with the company logo, a stylized 'M' between two roaring tigers, and painted in the regal colour scheme of blue and maroon.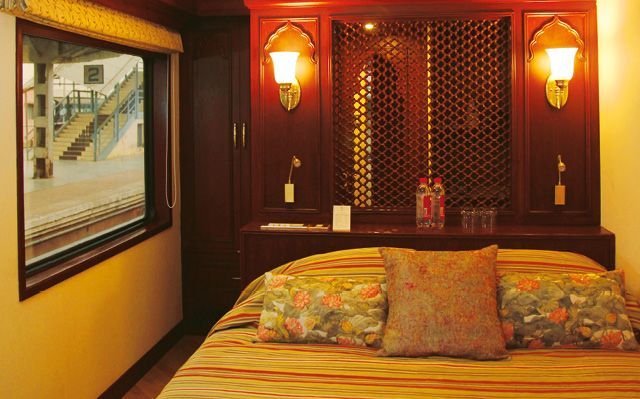 You'll savour the landscapes of this richly diverse and beautiful country in exquisite comfort when cocooned in your Maharajas' Express cabin, all of which are named after precious gemstones. There simply is no finer way to journey to India's marquee destinations. Combing the opulence of Indian royalty with contemporary design, cabins offer five-star luxury with facilities that include LCD TVs with a satellite connection, a choice of double and twin beds, and bathrooms with complimentary toiletries. Air-conditioning is centralised and you can keep up to date with your emails and news thanks to on-board wi-fi, while an electronic safe takes care of your valuables.
There is a choice of four cabin types: Junior Suite, Suite, Deluxe Cabin and Presidential Suite.
A Junior Suite features an en suite shower and WC, as well as a table with a chair, wardrobe with electronic safe and a TV – that is, if you can bear to tear yourself away from the superb scenery visible from your large windows
Moving up to a Suite, you'll find the above plus an en suite bath tub, mini bar and sitting area with sofa and chairs.
The Deluxe Cabin has won accolades at an international level for its services and facilities, offering a high-end feel with its lavish wood-panelled interiors. With its writing ledge and stool, you'll want to send home a few postcards to friends and loved ones.
Embodying the grandeur and opulence worthy of any head of state is the aptly named Presidential Suite. Taking up a full carriage, it features two bedrooms, including a Master bedroom with an en-suite bathroom that has both a shower and a bath tub. There's even a living room that accommodates a plush sofa.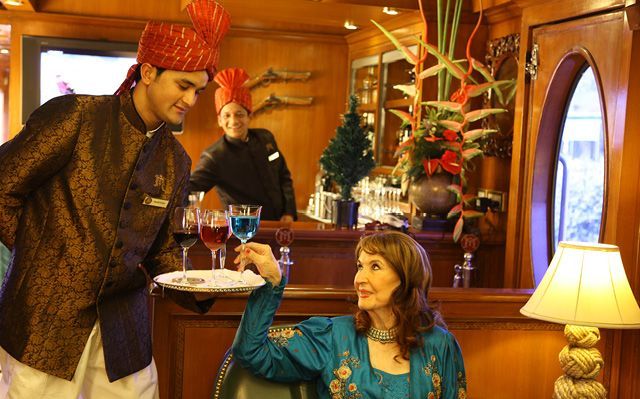 Mimicking the service that used to be given to royalty on their personal trains, the Maharajas' Express makes certain that it is on the same level. To begin your journey, you'll be welcomed in classic Indian Maharaja style at the station. Then at the finale of your the journey, you'll experience a farewell event at the Safari Bar. The women are offered bright and silky saris while the men are presented with kurtas to dress in while dining on sumptuous cuisine in a night filled with laughter, food and entertainment.
The Maharajas' Express serves a variety of options that cater to every diet. Whether you're lactose-intolerant, prefer your plants over animals or require a Kosher-friendly meal, the kitchen serves it all in its two restaurants. The Rang Mahal which literally translated means "Palace of Colours", houses its shimmering frescoed ceiling compared to the parading brilliance of Mayur Mahal or "Peacock Palace". With fresh food and spices, the Maharajas' Express is a gastronomic tour of India, all from the comfort of your plush seat. However, if you want to experience the world during your journey, the kitchen also prepares dishes such as pan-seared sole with a lemon velouté, spaghetti arrabiata or creamy beef stroganoff.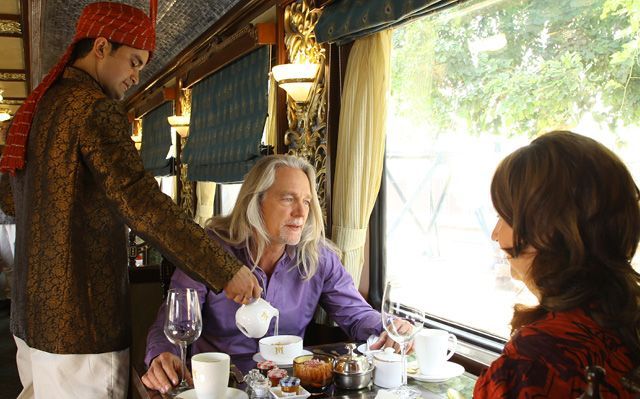 During the day it is advised to wear smart casual when on board the train, but if your day is out in Ranthambore National Park for your tiger game drive, they recommend to wear subdued colours. As the day turns to night, you'll be expected to wear your formal wear.
Also since your itinerary includes off-train excursions, it's also suggested that you bring walking shoes with you.
General Information
Smoking
Smoking is not permitted anywhere on board.
Wi-Fi
Wi-Fi is available on board the train.
Payments
All major credit cards are accepted on board.
Our latest Maharajas' Express offers
All of our holidays include flights and transfers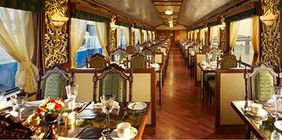 Luxury Maharajas' Express & Magical Maldives Escape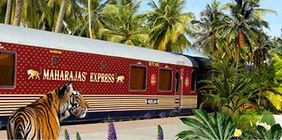 Luxury Maharajas' Express & Mauritian Escape

Can't find what you're looking for?
Try searching below
Book with confidence
Book with confidence. We are members of ABTA and committed to delivering exceptional levels of quality, service and value. All our cruise holidays are financially protected through ABTA bonding and many of our flights and flight-inclusive holidays are covered by the ATOL scheme for your peace of mind.
Fully Protected
You're in safe hands with a reputable, accredited travel agent.
Service & Expertise
Our experienced team create unique rail holidays tailored to you.
Highly Recommended
4.5/5 of our customers would happily rebook with us.
Exceptional Value
We're obsessed with delivering exceptional value on every rail holiday.